Hello Lepiforum
A little adventure from Denmark, in the early spring

I went to Glatved beach on the 8. of April 2017 - checking out, what was there to find so early
By chance I broke a vithered branch on an Rosa canina - and what was that??
A very small, yellow larva was sitting inside the twig looking out on me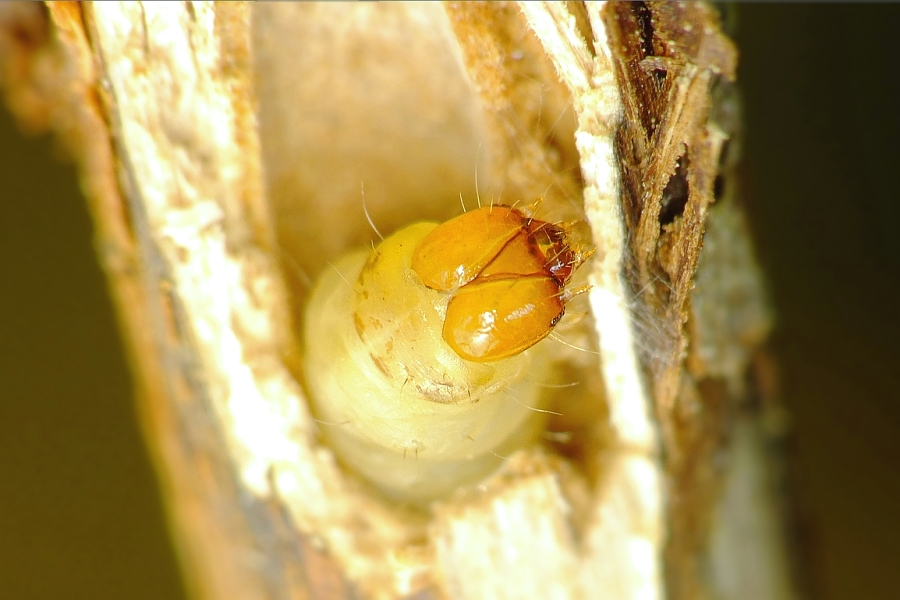 Dänemark, Jutland, Grenaa south - Glatved, 5 m - about 150 m from the coast, a meadow at the beach. Dayfound/Freeland
Rosa canina, 8. of April, 2017, Length: 8 mm.
Foto: Kjeld Brem Sørensen.
I began to search and at the same time I found a completely similar larva in the bottom of the trunk of a similar plant, broken down and withered, only left ½ m back with the centerstem standing upright.
They both were photographed and brought home, together with some withered rosetwigs/branches.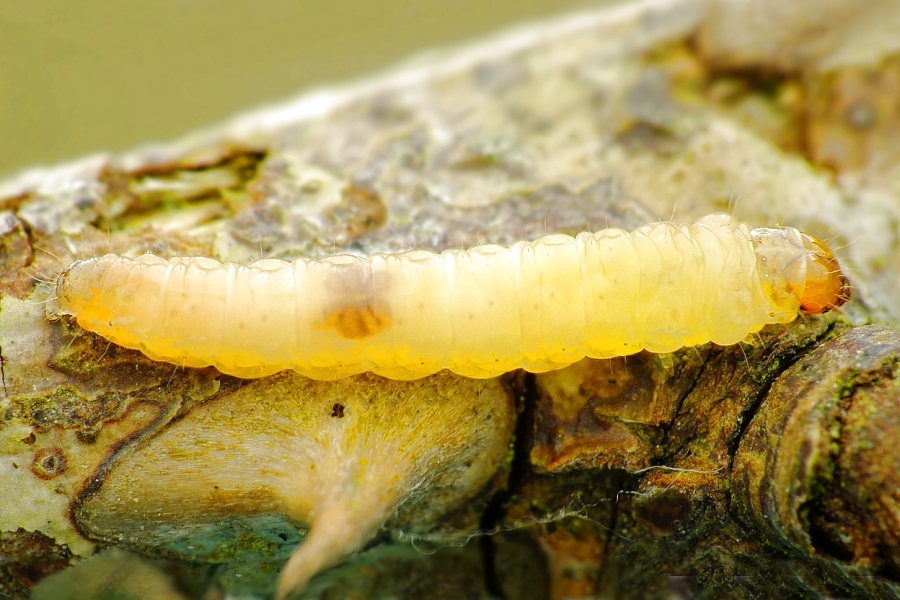 When it was found inside the branches, I assumed that they were able to eat some withered twigs or so -and in April there´s very little fresh plant.
When coming home, they dug immediately into the branches, and I didn´t see them anymore! ... There was no life to notice.
.
It became a longer affair - and a little tug of war

Of course, I checked everything that could be crawling and living on the Rose canina - without the great results.
I asked at the same time to the right and to the left, but noone seems to know this lilttle "beast"
- except by a good advice of Ole Karsholt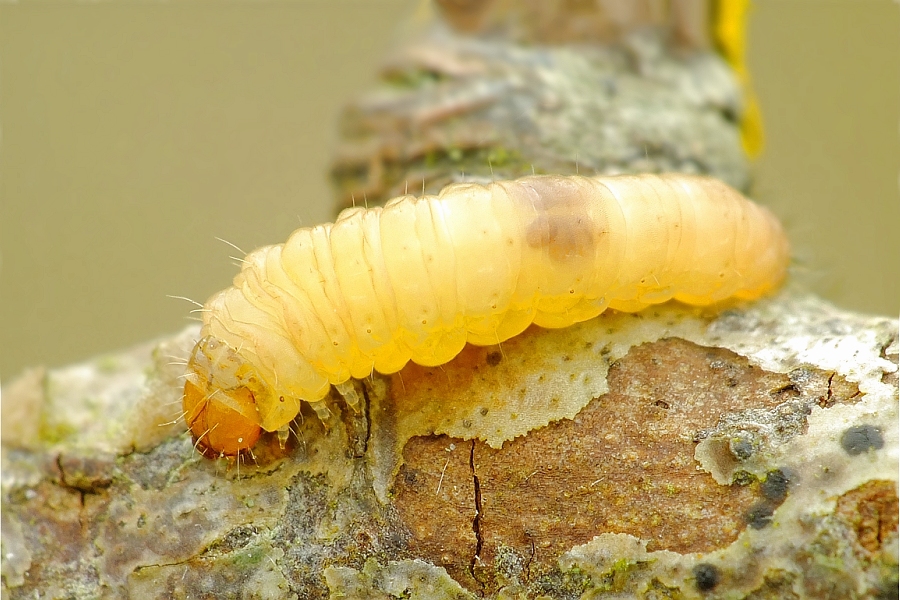 After 3 weeks I was impatient and checked one of them. It was sitting inside yet, and when it was about spring,
I gave it some fresh branches and leaves. No interest!

When I looked for it later, this larva was gone ?? and I never saw it again.
Luckily I had tested the same way/plant at Grenaa beach - and found one more! - in exactly the same Rose canina and at the same place on the plant, in the outer tips of the withered branches. However, I found no more, even though I was now keen on it.
Here´s a typical habitat for the species -here seen at Glatved Beach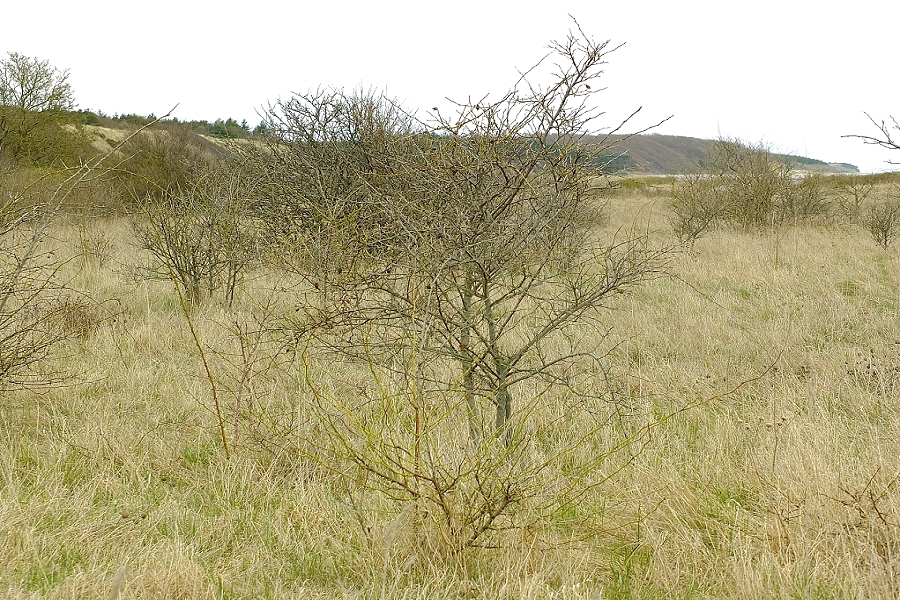 Some days in May I thought again: Bang or fall / Now or never

:
Now I want to know what's going on in there!
(probably both stupid and a little unexperienced, but what could I do ...)
I checked again one of the 2 branches (with the 2 larvae I now had left)
Out came one larva, but it didn't seems to be interested in anything. It was just sitting half out in the opening.
The day after it just hung out the twig and without any power - and I thought (mistakenly) that it was dying...
-but it was instead thickened and was about to pupate.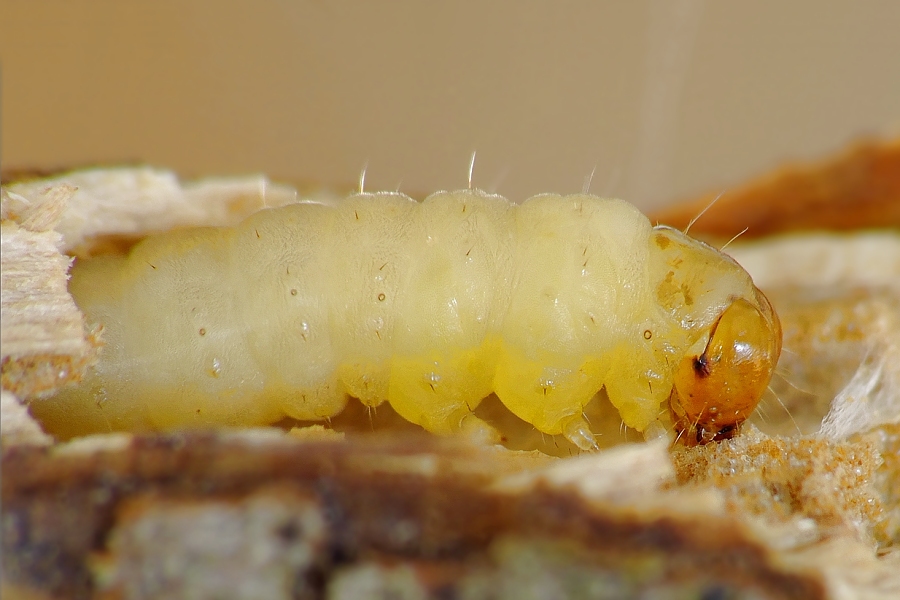 On the 3. day it just lay down in the bottom of the box - But now as a clear pupa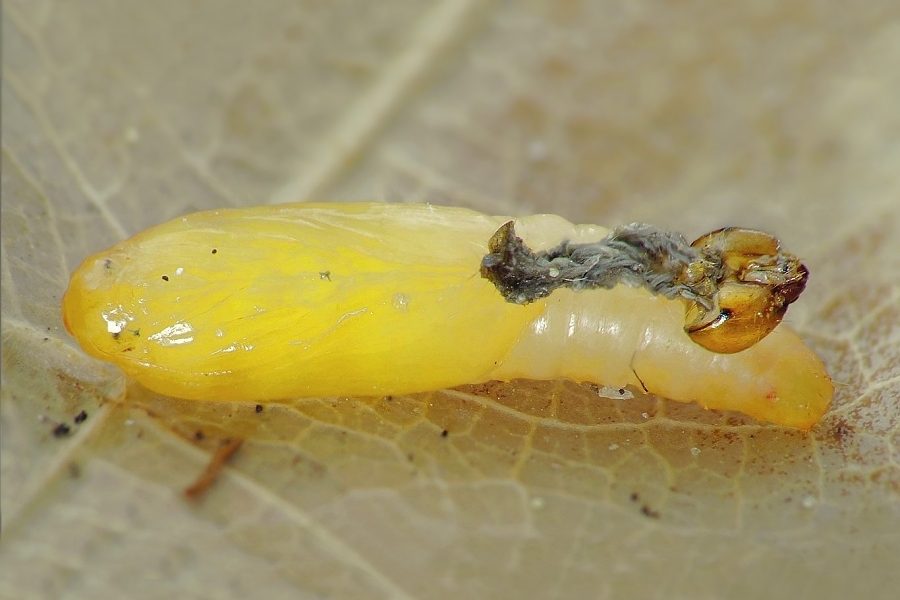 It was laid in another, smaller pupating box, and as usual, the pupa was darkened over time, as normally
Pupa Length: 6 mm
Note the headshell of the caterpillar lying down at "foot" on the pupa
After all this story, it became a scoop when there finally - finally (19 days later), sat an freshly
Grapholita Tenebrosana down in the box, looking up to me

It was send out, flying by the Rose canina, where I found it 3. Caterpillar at Grenaa beach.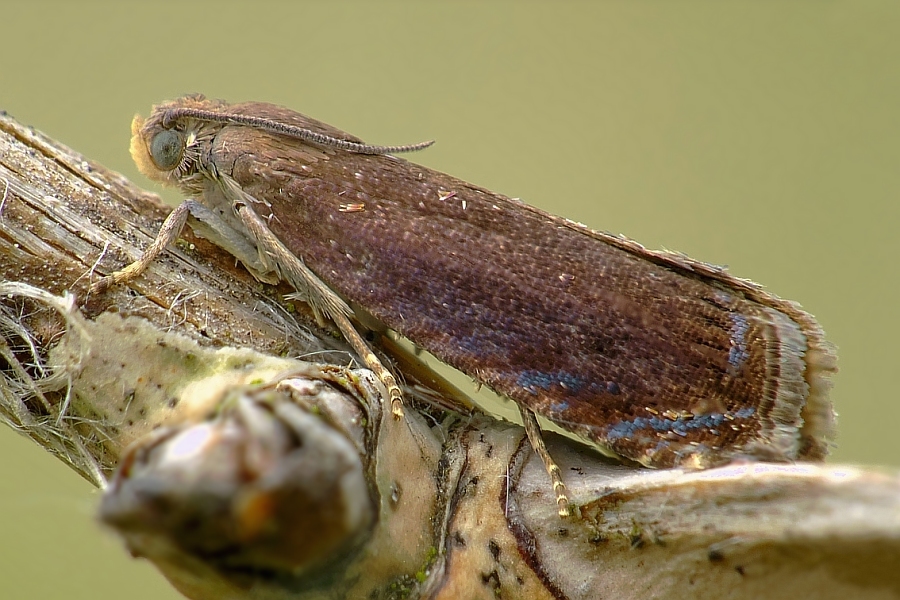 One day, later, I discovered surprisingly an empty pupa poking out of a completely different twig, than I had thought the larvae were living inside!
-And as I had erroneously thought had disappeared.
and later on I found a G. tenebrosana in the windowsill - as Imago - sadly dead.
It was, of course, a pity. It should have been properly out flying instead.
-but all in all, I had breeded 2 Imagos out of this "mystery"

... and here Grapholita tenebrosana says Goodbye for now

- Thank you for reading
Remark:
The unusual jaws (like beetles) to bite in the inner marrow of the branches - and it is living inside the fruit, too.
And the Nechshield is transparent, so you see the colour of the head through it.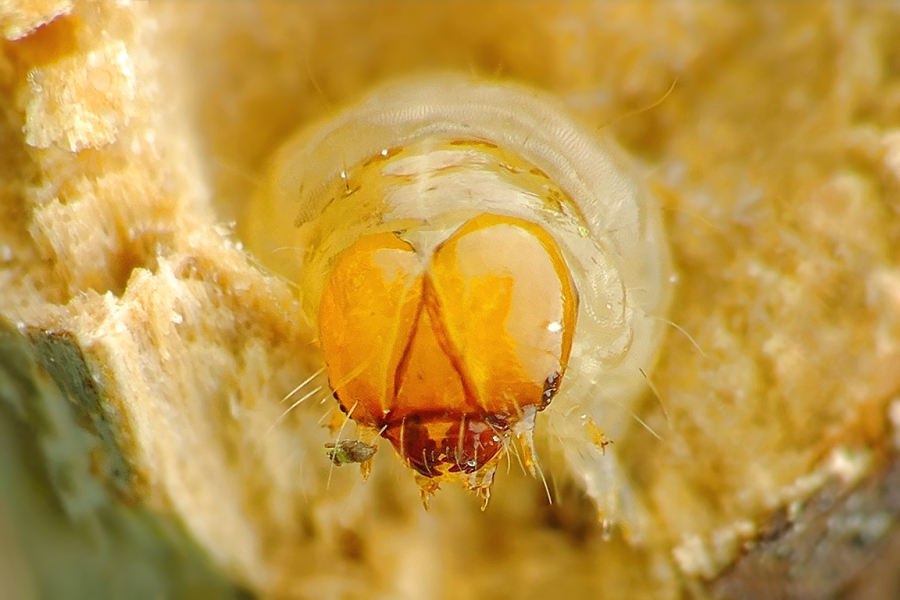 And out of this story came this page, too, to a coming Larvaebook, hopefully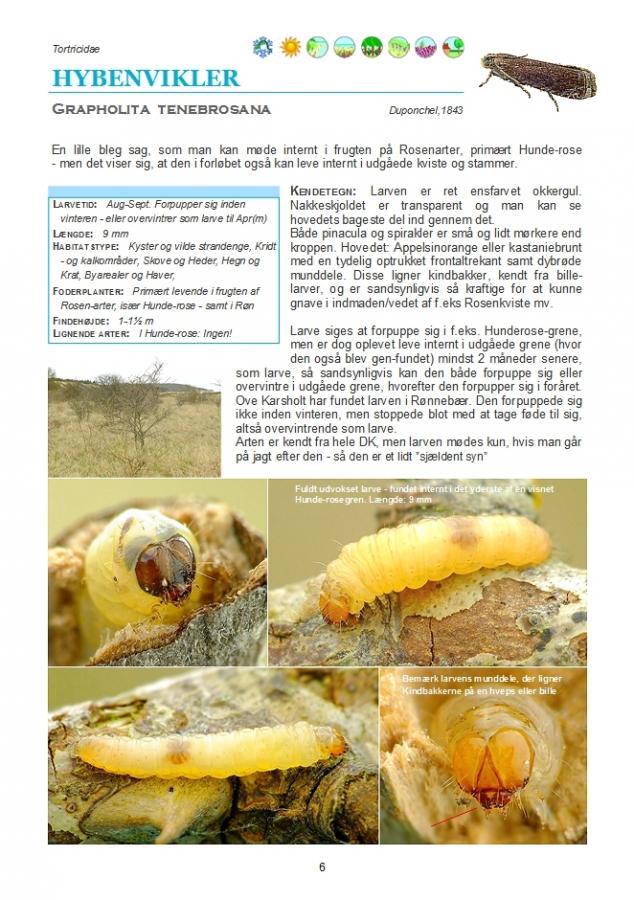 Kind regards - Kjeld Brem