Bestimmungshilfe
/
Schmetterlingsfamilien
/
Tortricidae
(Wickler, Blattroller)
EU
←
↑
→

04632
Epiphyas postvittana (WALKER, 1863)
---
1-2: England, London, Stoke Newington, im Garten 23. März 2012 (Foto: Matthew Gandy), det. Matthew Gandy
3, ♂: Großbritanien, London, Wimbledon, Garten, 15. Mai 2016 (fot. & det.: Vlad Proklov) [Forum]
4-5, zwei ♀: Großbritanien, London, Wimbledon, Garten, 15. Mai 2016 (fot. & det.: Vlad Proklov) [Forum] und [Forum]

---
---
Diagnose
Männchen
1-2, ♂: Daten siehe Etikett (fot.: Michel Kettner), det. & coll. Dr. Theo Grünewald

---
Erstbeschreibung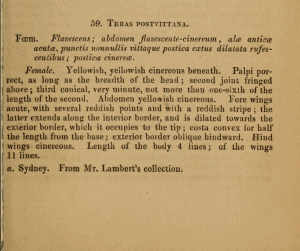 WALKER (1863: 297) [nach Copyright-freiem Scan auf www.biodiversitylibrary.org]
---
---
Weitere Informationen
Andere Kombinationen
Tortrix postvittana WALKER, 1863 [Originalkombination]
---
Faunistik
I. KIMBER teilt auf seiner Website "UKmoths" [998 Light Brown Apple Moth Epiphyas postvittana] mit, dass die ursprünglich australische Art wahrscheinlich in den 1930er Jahren nach Cornwall (England) eingeschleppt wurde. Auf [demon.co.uk/insects/WatchList Keith Edkins, last updated September 2015] ist zusammenfassend zur Situation in England zu lesen: "This species is spreading rapidly through the UK after first being recorded in Cornwall in the 1930's. It is now reaching almost pest proportions in some parts of the UK and can be seen in most months of the year in southern counties, the midlands and north-west, and has been reported from Scotland and Northern Ireland."
Nach dem Titel einer französischen Arbeit (COSSON 2009) scheint sich die Art auch dort auszubreiten.
Ganz besonders interessant ist für uns eine Thesis-Arbeit aus Neuseeland (HE 2010), denn darin werden anhand der Ansprüche des Falters an Wärme und Feuchtigkeit auch Vorhersagen über die Eignung bzw. Nichteignung verschiedener Erdteile gemacht. Zu Europa heißt es unter der Überschrift "2.3.3 Predicted potential distribution in European countries": "Southwestern Europe is relatively more suitable for E. postvittana establishment than north and east Europe (Figure 2.6). Most areas in UK are predicted suitable for the moth, as E. postvittana is currently widespread all over that country (Suckling & Brockerhoff 2010). Countries such as Portugal, France, Italy, and Greece are predicted under high risk of E. postvittana establishment with EI values up to 69. Heat and dry stress indices showed no general effects in Europe. Northwestern Europe appears not to be favorable for E. postvittana establishment because of high cold stress in that area (Appendix 7a, b & c). European countries such as Germany, the Netherlands, Belgium, France, Italy, United Kingdom, Ireland and Portugal might potentially be suitable for establishment of E. postvittana in a few locations where the EI values range from 50 to 69. The British Isles in which E. postvittana is currently distributed, was shown suitable for E. postvittana establishment with EI value around 2-54 and the lowest values are those in the northern area." Für Deutschland ist nach der gezeigten Karte (Fig. 2.6 Seite 35) mal wieder vor allem das Grenzgebiet zu Belgien und zu den Niederlanden prädestiniert.
(Autor: Erwin Rennwald)
---
Literatur
COSSON, A. (2009): Epiphyas postvittana, une espèce invasive venue d'Australie (Lep. Tortricidae). — Oreina 7: 4-5. [PDF auf oreina.org]
HE, SHU-QI (2010): Pest risk assessment of light brown apple moth, Epiphyas postvittana (Lepidoptera: Tortricidae) using climate models and fitness-related genetic Variation. - A thesis submitted in partial fulfillment of the requirements for the Degree of Master of Science. - XII + 129 S.; Lincoln University Digital Thesis, Christchurch, New Zealand. [PDF auf lincoln.ac.nz]
Erstbeschreibung: WALKER, F. (1863): List of the Specimens of Lepidopterous Insects in the Collection of the British Museum 28: 287-561. London.
---
Informationen auf anderen Websites (externe Links)
---
Bestimmungshilfe
/
Schmetterlingsfamilien
/
Tortricidae
(Wickler, Blattroller)
EU
←
↑
→

04632
Epiphyas postvittana (WALKER, 1863)
non-d-ch-a