Identification aid
/ Geometridae / Sterrhinae / Non-European species


Idaea omari HAUSMANN & BLÄSIUS, 2008
deutsch
---
Difficult to identify!
Known only from Morocco.
Moths
in summer,
larva
and
pupa
not yet found in the wild.
---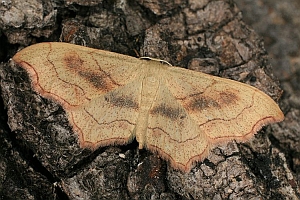 1, Paratype, ♀: Morocco, High Atlas, Toubkal massif, Imlil, inside village, 1600 m [= type locality]. ♀ (mother) 5. August 2007, leg. Rolf Bläsius. This specimen is a great-great-granddaughter of the holotype (F4 generation). 31. March 2008 (Studio photograph: Axel Steiner).
---
---
Diagnosis
Identification
Adult: Cannot be separated externally from Idaea dromikos. The discal spots are somewhat less distinct and in the females forms with well developed median shade are more common. Good differences can be found in the genitalia. Idaea simplicior has more rounded wings and on average slightly paler ground colour, the male antennae are not serrate.
1-3, three specimens: Morocco, High Atlas, Toubkal massif, Imlil, inside village, 1600 m, F4 generation (leg. & det. Rolf Bläsius), e.o. May 2009 (cult. & phot.: Harald Lahm) [Forum]

---
Similar European species
---
---
Biology
Habitat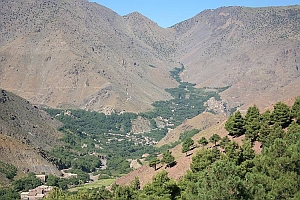 1: Morocco, High Atlas, view of the valley of Imlil, type locality of Idaea omari.

---
Further information
Etymology (explanation of name)
The species is named for OMAR AIT IFRADEN who once ran the camping site at Oukaïmeden accommodating generations of entomologists. The holotype was found on the flat roof of his house in Imlil.
---
Taxonomic note
The species was recognised as a taxon different from Idaea emarginata, Idaea dromikos, and Idaea simplicior in 2008. Older literature records of "Idaea emarginata" from the Rif and the High Atlas (Iminène) need to be reexamined as to their true identity. Idaea simplicior has been recorded from the Middle Atlas. Idaea dromikos occurs in Spain and therefore might be expected in the Rif.
---
Distribution
Insufficiently known. So far only recorded from the High Atlas in Morocco. Also see above under "Taxonomic note".
---
Literature
original description: HAUSMANN, A., LEIPNITZ, M. & BLÄSIUS, R. (2008): Idaea omari Hausmann & Bläsius, sp. n. from Morocco (Lepidoptera: Geometridae, Sterrhinae). – SHILAP, Revista de lepidopterología, 36(143): 411-416 [PDF at redalyc.uaemex.mx].
---
Identification aid
/ Geometridae / Sterrhinae / Non-European species


Idaea omari HAUSMANN & BLÄSIUS, 2008
deutsch