Bestimmungshilfe
/
Schmetterlingsfamilien
/
Oecophoridae
(Faulholzmotten)
EU
←
↑
→
M-EU
←
↑
→
02378
Pleurota punctella (O. COSTA, [1836])
--- ---
---
Diagnose
Männchen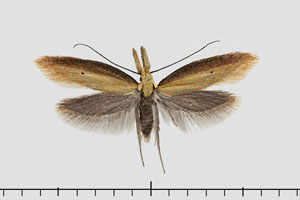 1, ♂: Slowenien, Koper, Socerb, 330 m, 21. Mai 2014, Tagfang (leg., det. & Foto: Rudolf Bryner)

---
Erstbeschreibung
COSTA ([1836]: [268], pl. VII Lep. Nott. fig. 2) [nach Copyright-freien Scans auf www.biodiversitylibrary.org]
---
---
Weitere Informationen
Andere Kombinationen
Palpula punctella O. COSTA, [1836] [Originalkombination]
Protasis punctella (O. COSTA, [1836])

Synonyme
Pleurota monostichella HERRICH-SCHÄFFER, 1855
---
Faunistik
HUEMER (2013: 212): "Ein einziger Fund im Zentrum von Innsbruck (ERLEBACH et al., 1997) basiert mit Sicherheit auf einem verschleppten Tier (HUEMER, 2000b)."
---
Datierung und Paginierung der Erstbeschreibung
HEMMING (1957) (= Direction 59 ICZN) datiert die Publikation COSTAs, führt wegen der unübersichtlichen Seitenzählung des Bandes eine neue Pagination in eckigen Klammern ein und macht Vorschläge, wie die Tafeln unverwechselbar zitiert werden können. Wir folgen der Direction 59.
(Autor: Jürgen Rodeland)
---
Literatur
Erstbeschreibung: COSTA, O.-G. (1832-1836): Fauna del regno di Napoli ossia enumerazione di tutti gli aminali che abitano le diverse regioni di questo regno e le acque che le bagnano contenente la descrizione de nuovi o poco esattamente conosciuti con figure ricavate da originali viventi e dipinte al naturale. Lepidotteri: [1]-[442], 38 pl. Napoli (dai torchi del tramater).
ERLEBACH, S., FRANZ, R. & P. HUEMER (1997): Rezente Erstnachweise und erwähnenswerte Beobachtungen von Schmetterlingen in Nordtirol (Insecta, Lepidoptera). — Veröffentlichungen des Tiroler Landesmuseums Ferdinandeum 77: 223–232.
HEMMING, F. [ed.] (1957): Direction 59. Determination (a) of the method to be followed in citing for the purposes of zoological nomenclature the several portions in which the Lepidotteri volume by Orenzio Gabriele Costa of the work entitled Fauna del Regno di Napoli were published, and (b) of the dates which for the foregoing purposes are to be assigned to each of those portions. — Opinions and Declarations Rendered by the International Commission on Zoological Nomenclature 15 (16): i-xviii. [Digitalisat auf biodiversitylibrary.org]
HUEMER, P. (2000): Ergänzungen und Korrekturen zur Schmetterlingsfauna Österreichs (Lepidoptera). — Beiträge zur Entomofaunistik 1: 39–56 [PDF auf zobodat.at].
HUEMER, P. (2013): Die Schmetterlinge Österreichs (Lepidoptera). Systematische und faunistische Checkliste. — Studiohefte 12: 1-304.
---
Informationen auf anderen Websites (externe Links)
---
Bestimmungshilfe
/
Schmetterlingsfamilien
/
Oecophoridae
(Faulholzmotten)
EU
←
↑
→
M-EU
←
↑
→
02378
Pleurota punctella (O. COSTA, [1836])
diagnosebild-m-eu